Lawrence Art Center New Artists in Residency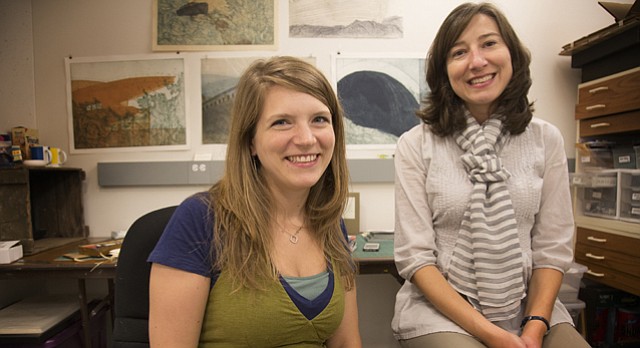 Photo by Richard Gwin for Lawrence Journal World
Amanda Maciuba and Christy Wittmer are the Lawrence Art Center's new artists in residence for 2015-16, and  will soon begin teaching classes, taking part in community-outreach projects and creating new work in Lawrence.
Amanda is a print maker with a Master's from the University of Iowa.  Her past work as focused on how the big flood in Iowa City affected the town and the people in it. While in Lawrence, she plans to focus on the prairie here and what is being done to sustain it.
Christy is a ceramicist with a master's from the University of Cincinnati.  She has a background in massage therapy as well, and some of her fascination with anatomy comes through in her pieces. She likes to add a bit of experimentation to her work.
More on fall classes at the Lawrence Art Center can be found here.